06/10/2019: Plate in the box!
It's not only rumor, but the truth: Skambankt will release an unplugged record! The recordings are done, and the record is planned for November.
unplugged shows
!
05/09/2019: On the road again!
Skambankt just announced their Unplugged tour this fall! And rumor has it that they might even bring a new album ... =:-D
Check out the
tour dates
and don't miss out! Tickets go on sale tomorrow morning at 9 am!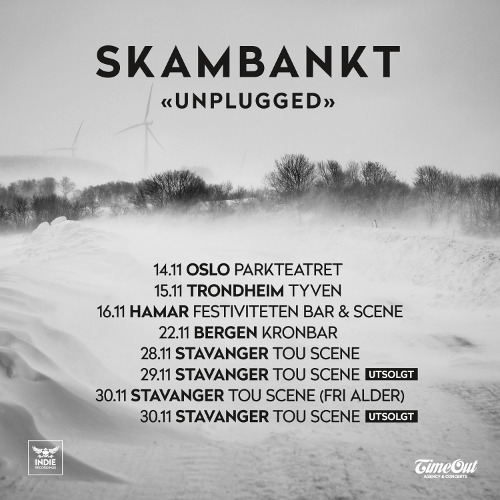 05/07/2019: Skambankt Unplugged!
There have been a few live gigs lately where Skambankt played their songs unplugged. Tonight, they'll do the same at a sold-out concert at Martinique in Stavanger, and tomorrow night, they will play at a festival where you would never ever expect to see a band like Skambankt in the line up: at Egersund Visefestival! =:-o
Now, that is only a one-off, and Skambankt will stick to the rock, right?? Well, according to
Stavanger Aftenblad
, the answer is no ... and yes! "No" because Skambankt are currently working on an unplugged album containing acoustic versions of existing songs plus at least one new song. They'll record it in September and expect the album to be released some time this fall. "Yes" because there's no need to worry about Skambankt going soft - a "normal" album is already in the works as well, and it will be released after the unplugged album. So we've got not only one, but two albums to look forward to, yay!
Check out the
tour dates
and make sure you catch a Skambankt concert this summer - plugged or unplugged!
09/06/2019: Etter solskinn kommer regnvær!
It might or might not be summer out there (guess that depends on when exactly you check), but the summer festival season has officially started! This weekend, Skambankt warmed up for Bon Jovi in Stavanger - check out my
report
!
See the
tour dates
for information on where else you can see Skambankt this summer. In addition to their "normal" live shows, they have added several unplugged gigs to their list, and I'm sure those will be fun to see. So go and get your tickets!
02/05/2019: Covers!
Skambankt just released a new single! "Skumring" is a cover of a song by Finn Kalvik, based on a poem by Inger Hagerup. Check out the video for the song here:
The B-side is Skambankt's cover of the Ingenting song "Liden" that was featured on TV Vest a while ago.
You can listen to and buy the songs
here
, and there will also be a 7'' again. Go
here
for the lyrics and translations - and please let me know if "Small" is the correct translation for "Liden" (or should it be "Done" or something instead?). My Stavangersk isn't as fluent as I thought, apparently. =;-)
The festival summer seems to be mostly confirmed by now - check out the current
dates
. And especially note the two concerts in Egersund and Tysnes, where Skambankt will cover themselves - unplugged! That sounds like you don't want to miss it, right? =:-D