08/12/2021: Silence!
Skambankt are back! OK, not that they were actually gone, but they just announced that early next year, they will release a new album - and this time, they're back to ROCK! =:-D
The album is their tenth full studio album and will be called "TI" - which, surprisingly enough, translated to "TEN". (Actually, it
could
also translate to "Shut up" - but I guess we'll know that when we get to hear the title song. =;-))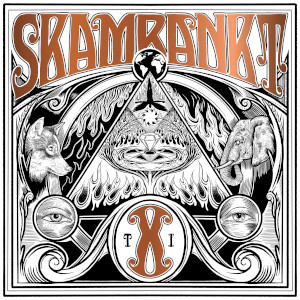 Here's the tracklist:
Satan – Det E Du
Faen Ta, Amerika
Døde Øyne
TI
Elefanten i Rommet
Ulver
De Uenige
Tider
Plan A
Boomerang
You can already preorder the album (either as CD or as vinyl in two variants - a limited white one with a fancy bronze cover or a standard black&white one) from
Platekompaniet
or
Big Dipper
.
The first single "Satan - det e du" was released today! Check it out
here
, or watch the video!
Oh, and if those weren't enough news for one day, Skambankt have a tip for Christmas presents as well: Skambankt's 10/10 Superkaffi! Yes, you guessed right, it's coffee! You can buy it
here
, and all profit goes to the street magazine
Asfalt
. Win-win for everyone, right?
And that's it for today ... but rumors say there will be tour dates coming out later this week, so stay tuned!
01/05/2021: Covidncert report!
Yes, Skambankt are actually out on tour at the moment! A little unpredictable, and the
tour dates
might be a little outdated at times - but some of the concerts are actually going ahead as planned, like yesterday's show in Trondheim!
Which was great fun, so
check out the report
!
21/02/2021: Omen!
Done - all the
lyrics and translations
for Jærtegn are now available!
Let me know
if you spot any errors. :-)
This Friday, February 26, Skambankt will play a digital release concert for Jærtegn! Buy your ticket for the show
here
.
14/02/2021: Jærtegn is out!
Well, actually the new album has been out for more than two weeks already ... but as it turns out, it doesn't always help to live in Norway if you have to mail-order "real", physical music. So I only got my hands on the album a couple of days ago, hence the delay in updating here ... But hey! It's out, it's dark, and it's awesome! =:-D
You can already check out all the
lyrics
, and I'll add the missing translations asap. Skambankt also put out another music video, this time for "Rosa løgner" - check it out:
Not very surprisingly, some of the upcoming tour dates have already been moved out a bit. And more have been added! So make sure to keep an eye on the
tour dates
and follow along on Facebook to make sure that "your" concert isn't sold out until you hear about it!
And as a final news bit, Skambankt also launched their own
webshop
now. And yes - they ship abroad! =:-)
22/01/2021: 10/10 for Jærtegn?
Only one week left until the release of Skambankt's new album "Jærtegn"! Which means if you haven't done so, you should definitely preorder it now. Skambankt listed some
record shops
where you can get the vinyl version, and gave a pretty promising presentation of the cover art. =:-D
After the release, Skambankt are planning to go on a tour - a
different
tour for sure, but let's cross our fingers that the concerts can happen as planned! Check out the
tour dates
that are known so far, and get your tickets early! Remember that there are a lot less tickets than usual ...
And last but not least, Skambankt put out a last "pre-release" single from Jærtegn a bit ago - check it out! (I'll upload the lyrics and translation when the album is out.)